SPECIAL ANNOUNCEMENT: Glenna Bell will be hosting an exciting new radio show on KPFT 90.1 FM in Houston, Texas on Saturday mornings from 8-10 AM CST. Three Chords and The Truth will present a musical journey through the diverse songs of the 19th and 20th century folk canon to Tin Pan Alley, Music Row, the Texas singer-songwriter scene and beyond, the Chitlin' Circuit, Blues and the road to rock 'n' roll. Tune in at https://kpft.org/listen-live-hd1/ to get your weekends off to a great beginning or listen at another time by going to https://archive.kpft.org/ . . .
Follow Glenna on FB
and Please Share: 
****************
*** Will you be my Valentine on Christmas 2023? ***
Will you say that you're all mine for Christmas?
and rising . . .
LISTEN NOW:
*** GLENNA BELL LIVE ***
The Continental Club, Houston TX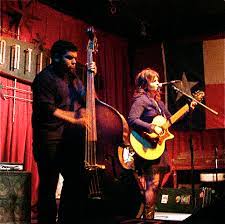 The Bluebird Cafe, Nashville TN
The Living Room, Lower East Side NYC
Dean's Downtown, Houston TX
*****************************
Introducing the Album
Let Freedom Ring:
Songs for a New Generation
Available on Spotify, Youtube, Napster, Amazon, and Apple Music:
Get Let Freedom Ring on Apple Music
Produced by Ronnie King (The Offspring, Tupac Shakur, Mariah Carey, Snoop Dogg)
Featuring Tim Rice-Oxley, band Keane: "Somewhere Only We Know," "Everybody's Changing"
Find out more about this incredible recording project:
And check out this FANTASTIC first review from New York City:
Parcbench.Live from NYC: Must-Hear Music Review
*************
The critics also raved about Glenna's vinyl LP release, 
Lone Star: Songs and Stories Straight from the Heart of Texas
The song writing on the new album is of the highest quality, with sharp, observant lyrics, fine melodies and a few off-beat touches. – Paul Riley, Country Music People -- 5-Stars (England) 
Lone Star is as welcome as a rainstorm in West Texas in August… or as welcome as truth and beauty at any time here in New York City . . . Glenna Bell is a gift for sure, and a gift to be shared. – Greg Victor, Parcbench.live
Most modern country artists have no idea what being 'country' means . . . Glenna knows . . . Listening to Lone Star is an experience I recommend very highly. – Rock Doctor Music Reviews, John Kereiff
Wild, deep stuff firmly in the literary tradition with no dust on it, here's a shining reason of why they love her so much. – Chris Spector, Midwest Record Entertainment: Reviews, News, and Views (Chicago)
I hung on every word. – Robert K. Oermann, Music Row (Nashville)
Bell's music is intelligent, unique, and provocative. Grab yourself a glass of wine, find a quiet spot and listen up. – Jim Hynes, Elmore Magazine
Click "Press" (at top) to read more . . . 
*************
AND MORE . . .
Hear Glenna's ASCAP AudioPortrait Interview
Listen to "The Cougar Anthem" on Youtube
Here's a link to Glenna's top songs on Apple Music
You can stream them on Youtube, Napster, Amazon, and Spotify too
Y'all come!